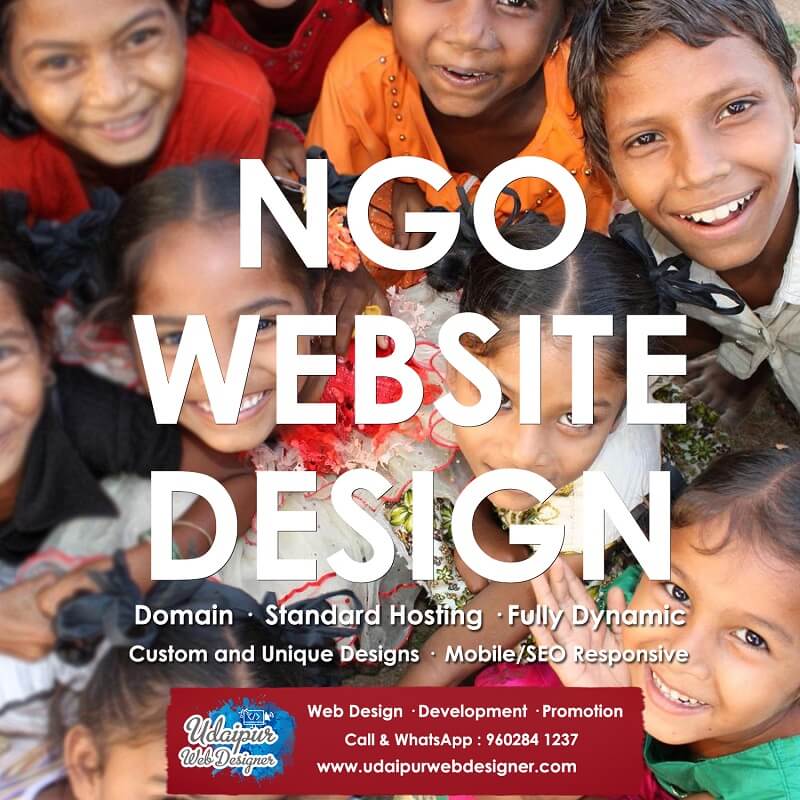 NGO Website Design Company
NGO Website Design Company – NGOs have always been a helping hand to the needy. However, they have not come under huge limelight because of the absence of proper promotion. One of the reasons for this is because they did not have a good website. At a time when people get information only from the internet, not having a website is a very poor idea. So, getting a website designed is crucial. At Udaipur Web Designer, we take care of all your web designing needs. Our unique style of designing any website makes all our NGO Website Design Company a huge hit.
You will never find our designing team using the same template or design for more than one client. We understand how significant each and every detail can be for nonprofit website design and that is why we take extra care to make sure that the website is up to the mark and our clients get huge success through it.
Contact us at +91 9602841237 for NGO Web Design, Nonprofit Website Design, Charity Website Design.  or drop a mail at ervikramnathchouhan@gmail.com, Get a Quote Online Click Here
Professional Nonprofit Website Design
Leading the path to success – There have been many instances when we were asked to develop a charity website design and we excelled at our work in such a manner that many other NGOs had got in touch with us to get their website designed.
Just like NGOs, we also believe in contributing to a social cause and that is why you will find our designers listen to each and every point so that there is no mistake while designing the website. In fact, the Best NGO Website Designer in Udaipur has been awarded to one of our esteemed designers.
A big reason for our success is that we offer customized services to each and every one of our clients. Starting from the design to the fonts to the plugins, everything is finalized after consulting with our client so that the output is exactly what you need.
There is no doubt that our designers are super talented and have enough innovation to design the website on their own, but we allow customization so that our designers and the client are on the same page. This reduces the chances of editing the website before going live on the internet.